Ted E.M. | Producer (USA)
"JAM! handles large projects with plenty of languages, they have very professional voices and can get tight deadlines met without any issues. Thanks guys!."
Alice V. | Producer (Germany)
"Mr. Mazón is a very professional Voice Talent and Producer. Working with JAM! is a pleasure. Good quality, always on time and reasonable prices."
Jorge M. | Producer (Portugal)
"We have been working with JAM! Voice Talents a couple of times and I must say that they provides a truly excellent and quite professional voice over service."
Gary C. | Producer (Canada)
"Our company has been very pleased to use the great services of JAM! over several years. Voiceovers in as many as 17 languages have been delivered to us, always high quality. Communications with JAM! have always been very clear on voiceover requirements, costing and delivery."
Brendan S. | Producer (Australia)
"We don't go anywhere else because we know whatever we throw at José Antonio and his team of talented voice artists we can expect nothing less than excellence. JAM! makes us sound great and broadens the offering to our clients."
Francys D.O. | Producer (Brazil)
"I provide my own voice to JAM! Voice Talents for Brazilians voiceovers and also use their international voice talents for clients based on Brazil. JAM!'s team is extremely professional and always fulfills whith all the job terms."
Gianfranco L. | Producer (Austria)
"Our company is working with José Antonio Mazón since many years!. We are used to get all the voiceover works quickly and smoothly."
Willem V.d.T. | Producer (Netherlands)
"It is always a pleasure to work with JAM! Voice Talents. Fast delivery, high quality audio and good prices. A great eye for detail and reliable to work with."
Andy R. | Producer (UK)
"Working with JAM! is an absolute pleasure. Perfect communications, easy to understand instructions and great to do business with."
Stephi K. | Producer (Germany)
"JAM! is a reliable partner for voice over recordings. Our company is working with Jose Antonio and his team since many years. JAM! stands for professionalism and good quality."
Robert C. | Producer (USA)
"Mr. Mazón and his team are always very professional, on point (and time), and the level of work is incomparable. They have my faith and confidence!."
Lukasz K. | Producer (Poland)
"Recording and working with JAM! Voice Talents company is always a big pleasure. Perfect quality, nice prices, fast deliveries, fantastic voices!. We recommend this company everyone."
Tony S. | Producer (Australia)
"I have been using JAM!'s VO services in multiple languages for several years now. JAM! Voice Talents has been very accommodating with our short deadlines or specific requirements from our clients. I highly recommend JAM!'s professional services and quality of work."
About Us
Jamlocuciones.com is the official website of José Antonio Mazón.

Mr. Mazón is a native and neutral European Spanish / Castilian male Voice Artist & International Audio Producer. As a Producer, he currently leads a team of over 2,000 Voice Talents and Voice Actors in 75 languages.

He has a neutral mid / deep (baritone) voice and his normal style is warm, reassuring, elegant, friendly, emotional and corporate. Here you have some samples:




But thanks to his versatility, a lot of customers have also requested JAM's voice for videogames, cartoons, movies, trailers, etc. Here you have some samples:




Born in 1968, Mr. Mazón began his professional career in 1990. He has been trained in many different Spanish National Media companies, mainly on Radio Stations (Independientes - Cadena 40 and 100 - Cadena COPE), and several Spanish Dubbing Schools.

Mr. Mazón began to work as a freelance Voice Artist in October 2002 and it was 2005 when he created JAM! Voice Talents, after he had internationally presented his own International Online Voice Bank.

JAM is available everyday, except Saturday and Sunday, and usually delivers the work via FTP or e-mail in less than 24 hours. For special cases, he is also available "in person" both in Spain and abroad, as occurred in some dubbing works done by Mr. Mazón for Olympus Co. in 2005 (Splendid Synchrom Studios, Germany) and for Blelabel Co. in 2006 (Sample Studios, Italy).

Here you have some TESTIMONIALS of our international customers.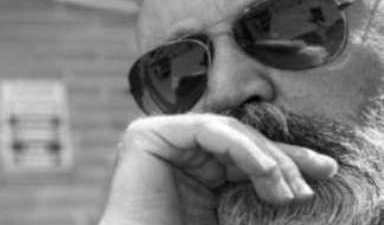 JAM
Mr. Mazón's references
José Antonio Mazón has been the institutional EU / Castilian Spanish voice in some information campaigns with Governments or Public Entities like the EUROPEAN UNION GOVERNMENT, SPANISH GOVERNMENT, CANADIAN GOVERNMENT, DUTCH GOVERNMENT, MADRID, ANDALUCIA, CASTILLA-LEON, EXTREMADURA, ASTURIAS, CANARIAS and NAVARRA REGIONAL GOVERNMENT's (SPAIN), CADIZ PROVINCIAL GOVERNMENT (SPAIN), CRACOVIAN CITY COUNCIL (POLAND) or MURCIA and ORIHUELA CITY COUNCIL's (SPAIN). He was also the official voice of the musical promotional program "Musicaldia" of TVE (Spanish Public Television) from August 2003 to November 2006.
To date, more than 400 companies have used the JAM's voice as their preferred EU Spanish corporate voice.

Among these companies are some first international brands such as:
| TRIUMPH MOTORS, ESTRELLA GALICIA, TAYLOR WIMPEY, FEVE (Grupo RENFE), REE, BOSCH, AECC, KLM, DOUGLAS, MAN, DAIICHI SANKYO, FONTERRA, RICOH, AFFINITY PETCARE, PFIZER, JOHN DEERE, MERCEDES BENZ, SMITH & NEPHEW, AMWAY, ELI LILLY, FIAT, EMC, GAS NATURAL DISTRIBUZIONE, AXALTA (Carlyle Group), TOTAL, PHILIPS, FEDEROPTICOS, RENAULT, KGHM, CREATIVE TECHNOLOGY, BAWAG Bank, PORSCHE, YAHOO, NETFLIX, 4 ROSES BOURBON, VODAFONE, BRADESCO, INTEL, ROCHE, HARLEY DAVIDSON, CHICCO, LG, J.WALKER (DIAGEO group), SAFILO, EXXON-MOBILE, DELL, REPSOL-YPF, ERREA, VOLVO, SKILL, JCB-VIBROMAX, MONT BLANC, KOMATSU, SIEMENS, CASE NEW HOLLAND, IBM, CANNONDALE, OLYMPUS, NEC, HONDA, SAECO, CONTINENTAL, HP, SPORT ZONE, MONDO, TERUMO, SAP, MICROSOFT, BRITISH AIRWAYS, KELLOGG'S, OSRAM, DUPONT, AUTODESK, CSL BEHRING, JANSSENG-CILAG, LYONDELL-BASELL, MEGGIT, etc.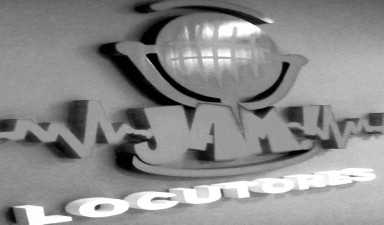 CO
Our Company
Founded in 2005 by Mr. Mazón, JAM! Voice Talents is a Spanish company (located in Spain) that offers a complete efficient Multilingual Voiceover and Lip Sync on 75 languages.
In March 2007 we inaugurated bigger and improved new Studios, permitting us since then being fully involved in almost any multilingual audiovisual project. JAM's new Studios are fully equipped with the most modern audio and software tools.
Backed by almost 500 customers in countries like Spain, Germany, UK, France, Belgium, Netherlands, Sweden, Denmark, Italy, Poland, USA, Brazil, Russia, Portugal, Canada, Austria, Norway, Switzerland, Finland, Australia, Mexico, Bulgaria, Greece, Turkey, Morocco, China or Singapour and, with almost 4,000 jobs done in the past 15 years, it will always be a pleasure to be able to assist in your audiovisual production.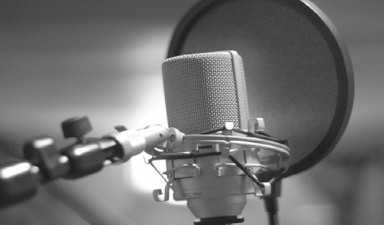 JAM!
JAM! Voice Talents's references
We are experts in corporate and e-learning / training voiceovers. Indeed, our company already has provided translation and voiceover / lip sync services in over 50 languages

to governments, public entities and worldwide leader companies such as:
| IBM, KLM, RENAULT, COCACOLA, MAKIBER (ACS Group), ORTHOFIX, OSRAM, GENERALITAT DE CATALUNYA, TAKEDA, WCO, BANCO SANTANDER, MICROSOFT, V-TAC, NIVEA (Beiersdorf Group), CAIXABANK, BANQUE POPULAIRE DU MAROC, IBERDROLA, JANSSEN (J&J Group), MAROC TELECOM, SYMANTEC, ALSTOM, FINNAIR Finland, BANCO SABADELL, VISA, FEDEX, RIO TINTO, TRIUMPH MOTORS, PORCELANOSA, IZOLA BANK, JOMA, MAHOU - SAN MIGUEL, ZESPRI, SMITH & NEPHEW, AENA, ADOBE, TRIUMPH GROUP, TETRA PAK, AVON, JBS, JOHN DEERE, SEACRET, HITACHI, CEPSA, HP, TOM TOM, FIEBIG, CHEVROLET, EULEN, PSA SINGAPOUR, CSIC, LIDL, CENTERBID, ROCHE, ADIF, VOLVO, MICHELIN, EMBRATUR, ASTRA ZENECA, CORTE SUPREMA DE JUSTICIA DE MEJICO, GOOGLE, DISCOVERY CHANNEL LATAM, BSG LUXURY RUSSIA, UPM FINLAND, OTS SINGAPPOUR, MEKKAH CLOCK TOWER MUSEUM SAUDI ARABIA, E-MAGNIFIER POLAND, LA HEGA, 1C GAMES, EL POZO, IDC, NH HOTELES, J.RIBKOFF, IVS, EU COMMISSION, BAUSCH & LOMB, HEADHUNTER AG Norway, FRIGO, STENA, HILTI, JC TOYS, VEREMONTE, JUNIPER, NETFLIX, BRADESCO, PLASTIC EUROPE BELGIUM, BANCA INTESA, ADECCO, TELEFONICA, ARCELORMITTAL, DUPONT, NESTLE, WALDORF ASTORIA (HILTON Group), ERICCSON, VUELING, LAFARGE, HARLEY DAVIDSON, THYSSEMKRUPP, SEAT, ATARI, INDITEX, FEVE, HITS MOB. Kuwait, INTERSPORT, CRUZCAMPO (Heineken Group), etc.
Services
Voice over, lip sync, sound and audio editing, corporate translation, corporate music... Our company have an extended expertise and good knowledge regarding with usual needs in the audiovisual sector and currently provides multilingual voiceover & lip sync services through our own international voices bank. Our Voices Bank (online service included in the Flash version of our website) count with more of 2,000 Native Professional Voices on 75 languages.

We only work with professional (PRO) and native Voice Artists so, concerning to their artistic and sound quality, experience and usual availability, all our voices are previously checked before of be included in our VO bank. We usally record in our own Studios (located on Spain) or in some of our partner Studios located around the world. This is our normal method of working. We believe that is the best way to fully guarantee the Voice Talents's native accent has not been distorted. On the other hand, "distant" and "undirected" recordings do not usually involve any problems, on the contrary, in most cases the recordings (that are done always following the client's style instructions and the original audio or video reference) are made and delivered in record-time (normally less than 04-48 hours) in the requested audio format (usually Wav PCM / 44.100 Hz - 16 bit / mono) and at a very competitive cost because, for example, travel is avoided. Indeed, we only recommend "presential" or "in person" recordings when the difficulty of job requires it.

By other side, all our voiceovers are delivered flat (without EQ or compression) and normalized between -6db and -3db. No breaths, no reading errors, no background noises (pops, clips, ssshs, etc ...), no echo, reverb or any other similar unsolicited sound effect. In the same way, JAM! Voice Talents will undertake with total quickness, and without additional cost, the retake of the part of the voiceover where any diction or pronunciation error, inappropriate style, technical deficiency, etc. will be detected. We will only charge extra money when, once the audio is finished and delivered, the customer requests a new recording by changing or adding words / phrases in the original script.

Regarding our rates, the cost of our services always varies depending on the language and / or voice chosen, the lenght of the script and / or its interpretive difficulty, the usage and / or broadcast of the voiceover, etc. So in JAM! we usually provide customized budgets, once we know all the project details.

Classified by continents, below you can see some of the languages and/or accents that we can currently provide:
EUROPE
| SPANISH (Spain), CATALONIAN, MALLORQUIN, GALICIAN, VALENCIAN, BASQUE, PORTUGUESE (Portugal), GERMAN (Germany, Swiss, Austria and Luxemburg), FRENCH (France, Belgium and Swiss), ENGLISH (UK, Ireland and Scotland), ITALIAN, DUTCH, FLEMISH, DANISH, NORWEGIAN, SWEDISH, FINNNISH, ISLANDIC, POLISH, BOSNIAN, CROATIAN, SERBIAN, SLOVENIAN, MACEDONIAN, CZECH, SLOVAK, RUSSIAN, LITHUAN, LETONIAN, ESTONIAN, MALTESE, BIELORUSSIAN, HUNGARIAN, BULGARIAN, ROMANIAN, UKRAINIAN, GREEK, TURKISH, HEBREW, ALBANIAN, IRISH GAELIC and MOLDOVAN.
AMERICA
| SPANISH (LATIN/NEUTRAL AMERICAN SPANISH and the American Spanish accents of Colombia, Argentina, Mexico, Chile, Ecuador, Uruguay, Puerto Rico, Peru, Venezuela, etc.), ENGLISH (USA and Canada), FRENCH (Canada) and PORTUGUESE (Brazil).
AFRICA
| ENGLISH (South Africa), ARABIC (NEUTRAL, Morocco, Egypt and Tunisia), AFRIKAANS (South Africa), SWAHILI (Kenya and Tanzania), ZULU (South Africa), YORUBA (Nigeria) and HAUSA (Niger, Nigeria and Cameroun).
ASIA
| ARABIC (NEUTRAL, Lebanon, UAE, Jordan, Syria, Irak, etc), ARMENIAN, GEORGIAN, UZBEK, KYRGYZ, KAZAKH, MONGOLIAN, HINDI, PUNJABI (India), DARI (Afghanistan), INDONESIAN, URDU (Pakistan and India), BENGALI (Bangla Desh and India), TAGALOG (Philippines), THAI, JAPAN, VIETNAMESE, MALAY, FARSI (Iran), KOREAN, CHINESE (MANDARIN, Cantonese, Taiwanese), KHEMER (Cambodia), BURMESE, TAMIL (India), KANNADA (India), GUJARATI (India), TELUGU (India), etc.
OCEANIA
| ENGLISH (Australia and New Zealand).
JAM! Studios's are fully equipped with the most modern audio / software tools and perfect acoustic conditions (100% soundproof recording / editing rooms designed to achieve a completely dry and noise-free acoustic environment).
Platform: PC | W7 PRO | Processor INTEL I7 3770k Quad Core 3.5GHz | RAM 16 GB DDR3
MICs: Neumann TLM 103 & Rode NTK Miniwatt NOS valve | MIC preAMP: Universal Audio Solo 610
Soundcards & Interfaces: RME Fireface UC & Focusrite Scarlett 8i6 | Studio Monitors: BEH Truth B3030A | Mixer: Yamaha MG12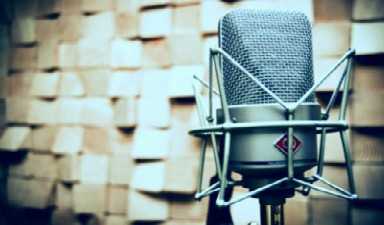 Neumann TLM 103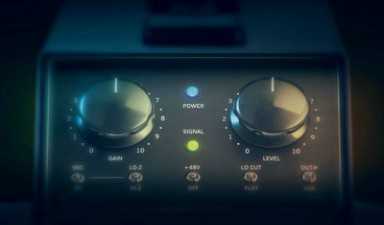 Universal Audio Solo 610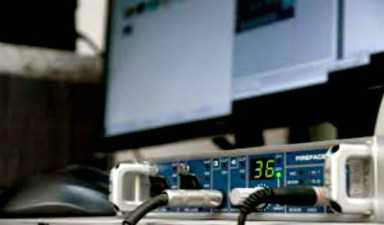 RME Fireface UC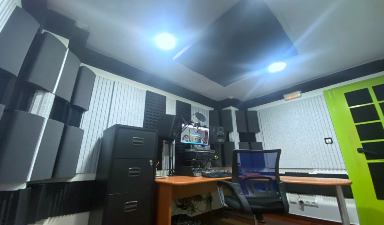 Recording and Editing Room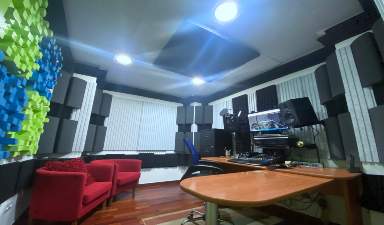 Recording and Editing Room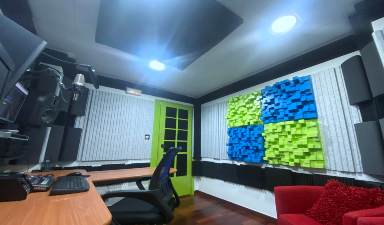 Recording and Editing Room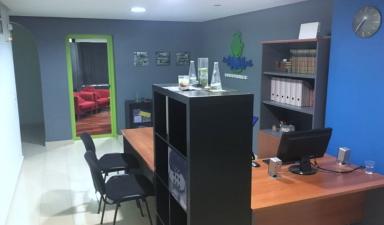 Production Room
Projects Development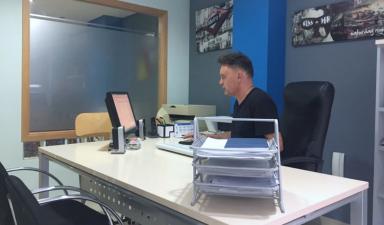 CEO's Room
25-October-18
JAM's voice was chosen for the Spanish version of one of the new corporate videos of the international Spanish company ESTRELLA GALICIA. At same time, JAM! Voice Talents provided the Spanish female voice that also participated in this project.
19-October-18
JAM! Voice Talents provided the Spanish female voice for the new corporate video of the international Spanish company AGUINAGA.
15-October-18
JAM! Voice Talents provided the translation and the Portuguese female voice for one of the new corporate video of the international Spanish company B THE TRAVEL BRAND.
11-October-18
JAM! Voice Talents provided the Spanish female voice for one of the new institutional videos of the Ministry of Finance of SPAIN's GOVERNMENT.
08-October-18
JAM! Voice Talents provided the Latin Spanish, Portuguese and Chinese female voices for one the new corporate videos of the international Australian company FORTESCUE METALS Group.
02-October-18
JAM! Voice Talents provided the British female voice for one of the new corporate videos of the international Spanish company INDITEX.
VoiceOvers by José A. Mazón
LipSyncs by José A. Mazón
*
Click here to listen
more voice demos of José A. Mazón
in our
Youtube channel
.
These are
our usual Voice Talents
in the 10 most requested languages:
French (France)
CH.CA


E.H

German (Germany)
M.HA


A.L

Portuguese (Portugal)
P.BU


C.S

Chinese (China)
LI.U


CH.CH

Arabic (Neutral)
Y.EF


N.D.M

Spanish (Latin America)
A.T


L.H

*
Click here to listen more Voice Talents demo's from our
International Voices Bank
in our
Flash website
.